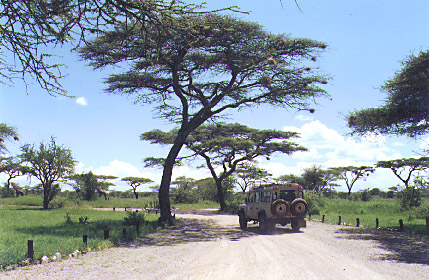 IT IS EARLY MORNING AT NDUTU LODGE AS WE HEAD OUT FOR THE OPEN PLAINS OF THE SERENGETI, A MAGICAL WORD SIGNIFYING ONE OF THE MOST FAMOUS WILDLIFE AREAS IN THE WORLD!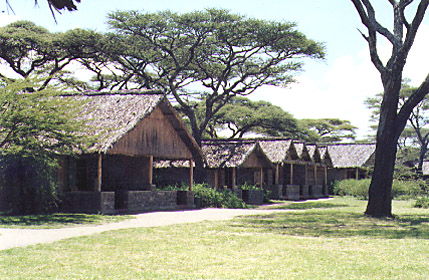 THE NDUTU LODGE, OUR HOME FOR THE NEXT FIVE NIGHTS, IS SITUATED IN THE SOUTHEASTERN SERENGETI, IN ARID THORNY ACACIA COUNTRY. THIS VAST AREA CONSISTS OF TREELESS CENTRAL PLAINS AND SAVANNAH DOTTED WITH ACACIAS, GRANITE OUTCROPPINGS CALLED KOPJES, AS WELL AS RIVERINE BUSH AND FOREST IN THE NORTH.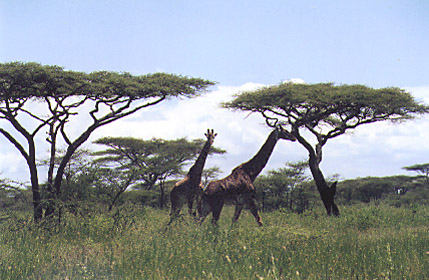 THE FEEDING GIRAFFES PAY LITTLE ATTENTION TO US AS WE FOLLOW THE PATH IN OUR FOUR WHEEL DRIVE THAT TAKES US OUT IN SEARCH OF LIONS AND OTHER WILDLIFE!!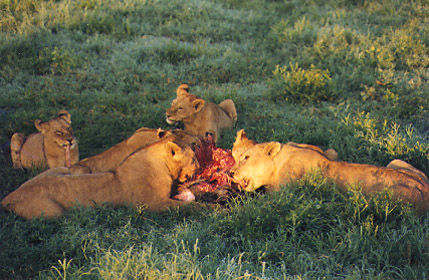 IT IS NOT VERY LONG BEFORE WE SPOT A PRIDE OF LIONS FEEDING ON A FRESHLY KILLED WILDEBEAST. WE APPROACH CAUTIOUSLY AND SPEND THE NEXT SEVERAL HOURS WATCHING THE UNFOLDING DRAMA BEING PLAYED OUT IN FRONT OF US.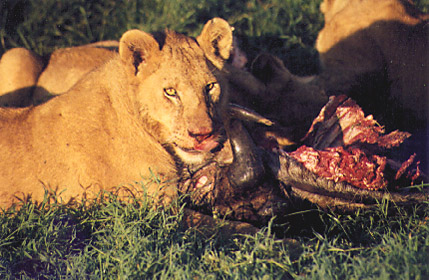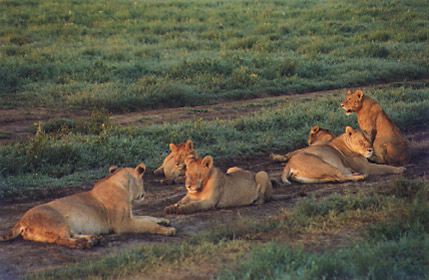 I COUNT 12 LIONS AT THE SCENE!!! SIX MEMBERS OF THE PRIDE, HAVING FED, BLOCK OUR PATH AND SEEM TO BE ENJOYING THE EARLY MORNING SUN. OFF IN THE DISTANCE THE VULTURES AND HYENAS WAIT THEIR TURN NOT DARING TO APPROACH THE FEEDING LIONS. TO DO SO WOULD MEAN INSTANT DEATH!! LIONS AND HYENAS HAVE LONG BEEN MORTAL ENEMIES DUE TO THEIR COMPETING FOR THE SAME FOOD SOURCES.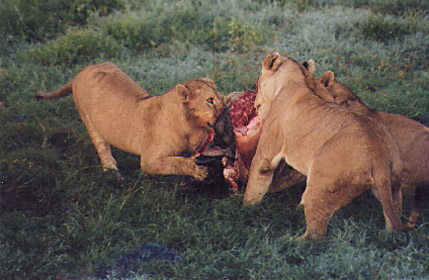 THE LIONS PAY LITTLE ATTENTION TO US AS TWO OR THREE FEMALES CONTINUE TO GUARD THEIR KILL SAVOURING THOSE LAST FEW BITES!! THE LIONS MUST HAVE BEEN FEEDING FOR A WHILE BECAUSE LITTLE REMAINS OF THE CARCASS. YET, THEY CONTINUE TO SQUABBLE AND FIGHT AMONGST THEMSELVES UNTIL FINALLY THEY MOVE OFF AND THE STAGE IS SET FOR THE CLEAN-UP SQUAD TO SPRING INTO ACTION!!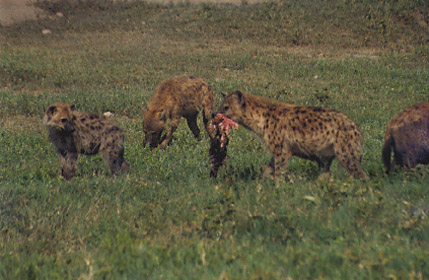 THE HYENAS MOVE IN QUICKLY EVER AWARE OF THE LIONS STILL IN THE AREA. THEY SCRAMBLE CLOSER TO THE CARCASS AND CARRY OFF THE LARGEST REMAINING PIECES.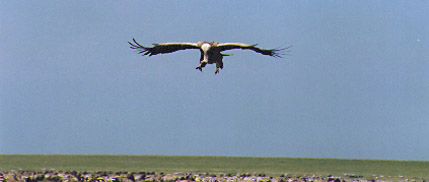 THE VULTURES TAKE CHARGE OF THE CLEANUP. THEY HAVE A DEFINITE PECKING ORDER AND MUST WAIT THEIR TURN. THE EGYPTIAN VULTURES FLY IN, THEIR HUGE WINGS GUIDING THEM IN LIKE 747'S.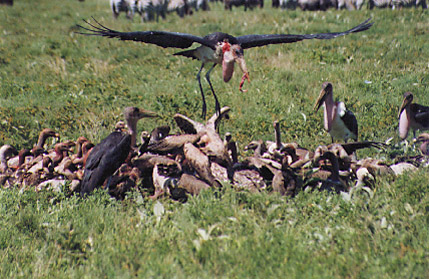 MARIBOO STORKS PARADE POMPOUSLY ABOUT AND SOON THE CARCASS IS COMPLETELY SMOTHERED BY A CACAPHONY OF FEEDING BIRDS!!!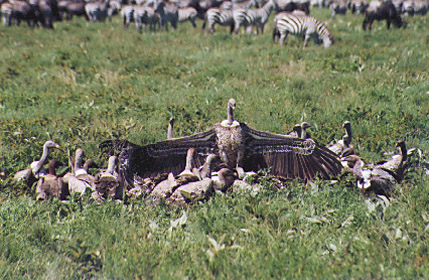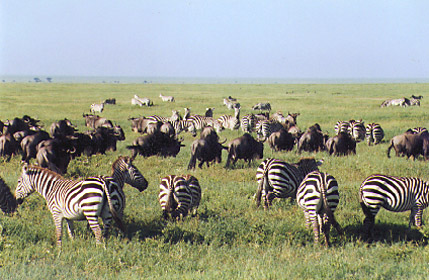 WE WATCH IN AMAZEMENT AND SOON IT IS ALL OVER. IT HAS BEEN TWO HOURS SINCE WE CAME UPON THE SCENE. THERE IS NOTHING REMAINING ON THE LANDSCAPE TO LET US KNOW WHAT HAD TAKEN PLACE HERE. NATURE, ONCE AGAIN, HAS RECYCLED ITSELF AND ALL IS QUIET ON THE AFRICAN PLAINS.
Libby Eglin Bio | To Order | Africa | Antarctica | Polar Bear | India | Links | Home | Contact Us
©2002 Libby Eglin Photography, All Rights Reserved. Everything contained herein is from sources deemed reliable, but no responsibility can be assigned to us. The services offered by this page are being offered to responsible sophisticated business people who at an absolute minimum would fall under the SEC guidelines as "accredited" people. Nothing contained herein shall be construed as an offering under the SEC Act of 1933.